Welcome to Lowenheim Cattery
Breeders of Fine Burmese Kittens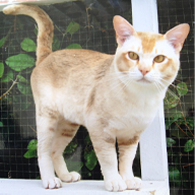 Bernard
---
We have been breeding Burmese since 1991.
On the 3/09/2007 we were the first Breeders in New Zealand and the World to breed Russet coloured Burmese. Molly Too was the first Russet we bred. On the 15/05/2012 we bred a second generation Russet from a Russet male (Bernard) and a Seal mother.
On the 7/10/2020 we breed a third generation Russet boy. From Jimmy Choux (Lilac) and Miley Belle (Chocolate Russet)
Bernard is shown above and Molly Too is shown in our Cats Page. Bernard has now gone to the Hawkes Bay to live with Wendy and assist in breeding there.
Kittens
When you purchase a Lowenheim kitten you are getting a healthy, friendly, and confident Kitten.
Kittens are born in our house and spend the first three weeks in our Bedroom, being handled daily. Between three and four weeks they are moved to the kitten room to allow them more space to develop.
At ten weeks they are taken to our Vet  for their first health check, first vaccination and de-sexing. Reaching twelve weeks they are then ready to go to their new homes.
Inquiry's and Visiting.
For Inquire's.  For Bob and Nicki  please use email, (Just click on email under contacts) as notes get lost.   For Wendy please contact her on   06-8701140    or email wendypluijmers@windowslive.com If you are wanting to go on our waiting lists and or are able find a kitten elsewhere please let us know so that we can remove you from our list. Our list is very large and at present we are not taking any more requests for kittens. Prospective buyers can visit the kittens from seven weeks of age. Once you have visited and wish to purchase a kitten then a $110.00 non-refundable deposit is required. At the completion of the sale and collecting the kitten, the deposit is deducted from the purchase price, paid prior to pick up. If you cannot pick up the kitten physically and need it to be transported elsewhere, we would suggest that you look closer to where you live. Contact Air New Zealand to find out about their new policy and costs relating to transporting Cats.
Kittens available.
Sad to say we have no kittens available at present.

Colours
Burmese:  Most of our kittens recently have been Chocolate with the odd Seal,  Lilac (occasionally) and  Russets. Russet is a new colour which we were the first to breed them in NZ and the world. See kittens below.
Burmese History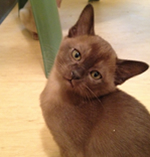 Burmese cats lived for centuries in Burma, Thailand and Malaya.
In the late 1800's they were known in England as Chocolate Siamese, but because they were not favoured they gradually died out in England and Europe.
The ancestry of Burmese cats can be traced back to one cat named Wong Mau, who was a brown female from Burma and arrived in San Francisco during the early 1930's to Dr. Joseph Thompson.
Through selective breeding to Siamese, the Burmese was established as a distinct breed.
Lighter coloured kittens were occasionally produced and eventually the American breeders requested recognition from CFA for these "dilute" colour's; first, as another breed named Malayan, then later as a dilute division of Burmese.
The Burmese Appearance
The Burmese is a strong, athletic and elegant short haired cat that carry surprising weight for its size and has often been described as a "brick wrapped in silk."
It has a fine, close, even, and glossy coat . Their coats are very short, satin-like in texture, and generally require little grooming other than daily petting.
At maturity males are large, the females are more delicate and graceful, and the difference in weight between them may be two or three kgs.
The Burmese is a compactly built cat with a small round head and wide-set eyes which are yellow or golden.
Burmese Colour's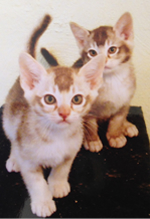 Russet Kittens
The Burmese cat has ten main recognised  colour's in NZ, Australia, UK and Europe:
Seal – the original Burmese color, a rich warm seal brown  (See Kittens above)
Blue – a soft blue-gray with a silver sheen
Chocolate – a warm milk chocolate
Lilac – a pale delicate dove gray with a pinkish cast
Red – tangerine
Cream – cream with a distinct bloom on the head and back, giving a powdered effect
Seal tortie – brown with shades of red
Blue tortie – Blue with shades of cream
Chocolate tortie – Chocolate with shades of red
Lilac tortie – lilac with shades of cream.
Russet  –  can be a chocolate or Seal coloured body with a reddish tint on their heads. see kittens above.  The ears have thumb prints on them and the underbelly is a cream/Ivory colour, paw pads and nose's are pink. The body tends to go redder as they get older.